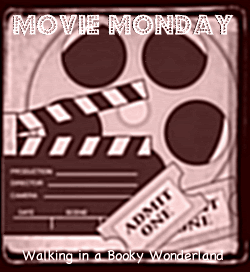 <a href="http://abookywonderland.blogspot.com/" target="_blank"><img alt="Movie Monday Button, The button for my Movie Monday events" border="0" src="http://i1271.photobucket.com/albums/jj632/abookywonderland/MovieMondayOriginal-1.gif" /></a></div>
This lovely blog button was made by Eileen at
***Singing and Reading in the Rain***
because I am both incompetent at button making and could never pull something off at this quality. I also want to apologize for being so inactive on this blog and not giving it all the attention that it definitely deserves. I know I made this promise last time to try better, and I'm going to keep trying more.
Movie Monday is a weekly meme hosted by me, Taylor, at A Booky Wonderland which features upcoming movies that have been adapted from books. This is a great meme to participate in if you are also participating in Parajunkee's Movie to Book challenge. So the last book I read this week was actually Bittersweet by Sarah Ockler, but I haven't changed my "Currently Reading" yet and I have to finish my review, but I will try my best to have it done by tomorrow.
SUMMARY
Once upon a time, Hudson knew exactly what her future looked like. Then a betrayal changed her life, and knocked her dreams to the ground. Now she's a girl who doesn't believe in second chances... a girl who stays under the radar by baking cupcakes at her mom's diner and obsessing over what might have been.

So when things start looking up and she has another shot at her dreams, Hudson is equal parts hopeful and terrified. Of course, this is also the moment a cute, sweet guy walks into her life... and starts serving up some seriously mixed signals. She's got a lot on her plate, and for a girl who's been burned before, risking it all is easier said than done.

It's time for Hudson to ask herself what she really wants, and how much she's willing to sacrifice to get it. Because in a place where opportunities are fleeting, she knows this chance may very well be her last...
I don't think this will be a movie anytime soon, but it seems like something ABC Family would make a movie out of. You know, that type of movie about self-discovery and a good romance added in at the end. I, for one, would totally watch this if it were made into a movie because it just seems like a great type of chick-flick that makes you want to cry and just burst into tears. This was an awesomely written book, and I seriously loved it, and I love how everything worked out. This would definitely be one of those chick-flicks you see on ABC Family. Definitely.